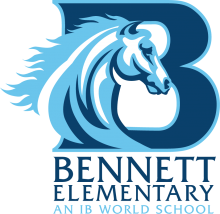 Dear Bennett Families,
We are so excited to welcome you back to in person learning. As you know, we will be returning to a Phase 3 Hybrid learning situation beginning on October 5th for our Early Childhood through Second Graders and on October 19th for our Third Graders through Fifth. We will be sending out more details on arrival and dismissal procedures in the very near future, but wanted to get some information out to you regarding a new dismissal plan that will help us maintain social distancing and discourage groups gathering after school.
First, bike riders and walkers will be dismissed at 3:20. Bus riders will be dismissed when their bus arrives. The rest applies to those who are being picked up.
In order to maintain social distancing and discourage kids from gathering, we are going to use a dismissal plan that will allow us to dismiss students when their ride is here. We will start dismissing students for pick up no earlier than 3:20. Beginning at 3:20, parents who are picking up will drive into the drive through pick up lane in the East parking lot. A staff member will be watching and, as the car drives in, the staff member will make note of the "family number" on the passenger's side window or dash. The number will be displayed in all classrooms and, when students or the teacher sees a number, the student(s) who belongs to that family will exit their class exterior door and proceed to the pick up line. We will have plenty of staff around the building making sure everyone gets where they need to be (especially those new to our school and our youngest students).
Here is where we need your help. First, please come to the school this Friday, October 2nd between 8am and 6pm to pick up your family number from the class box outside of your oldest child's class. You will be given two copies of your number that we have printed in large bold print to display in your vehicle (one for you and one for any additional pick up drivers). When you come to pick up your child, please make sure the number is displayed where it can be seen from your passenger side. Once you pull in, please proceed all the way to the front of the pick up line. (There will be people to direct you). Please stay in your vehicle and wait for your student(s). Do not park and walk up to ask for your child to be called. We are limiting access to the school grounds to PSD Employees during school hours. Please do not go to your child's classroom before or after school.
Thank you for your cooperation. We anticipate our new procedures taking some time at first until we get into a routine so thank you in advance as we work together to keep our kids and school community as safe as possible. We will see you soon!