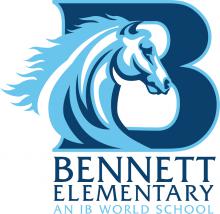 In case you haven't heard, our StamREAD fundraiser was an amazing success! Thanks to all of you who supported your students by helping them to log their minutes, engage in some of the fun activities, and to ask your friends and family for their financial support. We are so grateful for all of you. Here are a few specific updates (and keep reading for the feedback request at the end):
During the StamREAD, our students surpassed the school goal of reading 100,000 minutes and read a combined 124,924 minutes, wow!

We had over 3,000 raffle entries from students participating in different ways

All grade levels participated, including our Pre-K classroom

We raised $20, 575.63 and the proceeds directly support the students at Bennett

6 gift cards to Old Firehouse Books were donated from Bowman Architecture LLC & the Peter Vlcek Agency, Farmers Insurance and given to raffle winners

4 gift baskets were given to student raffle winners

All students at Bennett will earn a book for participating, and they have been shipped to Bennett and will be delivered soon!
We especially want to thank all of the BCO officers and members who were instrumental in organizing this fundraiser. The BCO is our parent organization who meets monthly on the second Monday of the month. Here is their website to learn more about what they do and how to become involved- https://sites.google.com/view/bennett-community-organization/home
Finally, the BCO officers have asked us to pass along a request for feedback. You can complete their survey here- https://forms.gle/qai2pGZYv9QpboZa8
Thank you again for all your support. Take care.