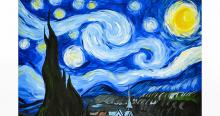 As you know, we have been approved to paint the fronts of the bathroom stalls in the 4th & 5th grade hallway as well as the 3rd grade hallway. This project is similar to what you might have seen on Pinterest or like what O'Dea Elementary has also done. We will be the second elementary school in all of Fort Collins to do a project like this. As you know, we have engaged our students in sharing their creative ideas and now we are ready to start the process.
Here is where we need your help! We need volunteers to come sand, clean, and prime the bathroom stalls first and then we will be looking for volunteers to help paint the base coat on the bathroom stalls. After that is done, our amazing volunteer will be coming in to add the details that were designed from our students.
If you are interested in helping with this work, please review the available slots below and click on the button to sign up. There will not be childcare provided, they will have to stay and help you/us.
https://www.signupgenius.com/go/30E0C4FADAB2AA2FF2-bathroom
Thank you!