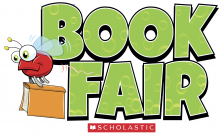 Our spring Book Fair will be held March 9th - 13th from 8:30 - 4:00 with a special event on Saturday, March 7th from 10:00 - 12:00. This is a great opportunity to get some new books for those long Spring Break travel plans, and help keep kids excited about reading while away from school!
Can't make it to the Fair? You can still participate with the Online Book Fair open March 1 - 14. Books are shipped directly to your house!
You can also go cash free by using Scholastic's eWallet. Perfect for those younger students who may have more difficulty keeping track of bills and coins.
No matter how you participate, more than 50% of all sales comes back to Bennett in the form of additional classroom books and materials to support student learning. Thank you for supporting your child and our school!