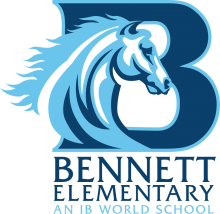 My hope is that this message finds you and your loved ones safe and healthy. I know that this is not the reality for many of you. If you need anything at all during this time, please feel free to contact me personally at asmythe@psdschools.org. Your child's teacher is also a good point of contact if you are more comfortable with that. I also want to thank all of you who are still working, especially the first responders and those in the medical field, for your service to the community.
I am sending this message out to tell you how you will be receiving communication from Bennett during this time of remote learning. I know that you are likely being inundated with messages from everyone who you've ever done business with as well as updates from Poudre School District and your teachers. In order to simplify communication and reduce redundancies, I will be refraining from sending direct communication to all families from me on a regular basis. If a situation arises that is Bennett specific that you all need to know and that hasn't been communicated through any other format (PSD update, teacher updates, etc.), I will send a school messenger just like this one.
In order to get you the information most important to your student's learning, you will receive information from your child's teacher in whatever format they have set up and shared with you. I will also be asking teachers to relay any school wide information in their usual manner of communicating with you. In addition, we will post school wide updates as well as other school wide activities on our social media platforms. Please consider following us so we can keep our whole school community engaged and intact. Click the links below to follow us on your preferred platforms. We are sharing pictures of our students learning and reading, our staff hard at work, and other fun updates. Soon we will be sharing staff members doing read aloud of beloved children's books. Currently on our social media is the Little Librarian! You can see Bennett students reading with Mrs. Larson. Below is a copy if you still need one. Also, next week we will doing a virtual Spirit Week! We will be using our social media to post pictures of the participants! There is a flier attached with all the themes. Hope you can join us!
Facebook
https://www.facebook.com/bennettelementary
Instagram
https://www.instagram.com/bennettelementary/
Twitter
https://twitter.com/bennettbroncos
Again, I am hoping for the health and safety of your family. I miss the students very much, please tell them I said hello and that we miss them. I am so proud of them for adjusting to this new style of learning and I know that it has been an undertaking for parents as well. Thank you for your partnership. Hoping to see everyone sooner than later. Take care of yourselves.
Stay safe,
Mrs. Smythe